Syllabus:
C.B.S.E. aligned syllabus up to Class V & A.P. State syllabus from Class VI (but the students are taught concepts from other syllabi also as when required). Integrated Syllabus books (with focus on JEE & NEET foundation) are prescribed for Classes VI-X for Maths, Physics, Chemistry & Biology for the students interested in the foundation courses.
Teaching Staff:
A Team of qualified, experienced, dedicated teaching staff forms the backbone of Kennedy. Most of them are graduates/postgraduates with B.Ed / Pandit training in their subjects. And they undergo intensive teacher training programs at Kennedy under the guidance of experts in the field. Almost all the teachers are computer literates & updated with the latest technology in pedagogy
Exams / Assessments:
Slip tests & Talent tests are conducted for students of classes I – V regularly. WorkSheets & Assessments in different forms are given to students of classes VI-IX. Daily Tests are conducted for students of Class X. Question papers of term-end exams viz., Quarterly, Half-yearly & Annual exams are prepared by the HM / DCEB
Study Hours:
Study hours are conducted for students of Classes VI-IX from 5.00 p.m. to 7.00 p.m.
Tuitions are neither conducted nor encouraged for students below Class V.
IIT Foundation:
IIT-JEE Foundation is given to the interested students of classes VI to X
Computer Education:
Students from Class I are given the necessary computer education. Internet concepts are taught from Class VI. Kennedy has more than 100 systems for students to use.
Internet:
All computer systems in the school are backed up by a high-speed broadband internet connection. eMails are provided to students of higher classes and they are encouraged to browse & enhance their knowledge.
ICT Theatre:
A 70 seating capacity room equipped with state of the art AV facilities along with DLP projector, Bose Audio, Interactive Board, Document Camera, Voting System is housed in Global Campus.
Interactive Technology:
i-Classes/e-Classes/Digital/Smart – Kennedy has about 25 of them – 10 in Merit Campus, 5 in Global Campus, and 10 in NextGenKids Campus. Multimedia Digital Content provided by Tata ClassEdge, Next Education, Edurite, Yenka Crocodile Clips, … is available for use in these rooms.
Language Lab:
English Language Lab supported by Wordsworth is available in an exclusive 30 seater lab in Merit Campus and in the Computer Labs in Global & NextGen campuses. Students are encouraged to enhance their language skills at their own pace.
Digital Library:
The digital library houses about 6000 books with Reference, G.K., Magazines, Comics, Fiction, and non-fiction books that cater to the varying reading levels of students of different classes. Students can borrow and take library books to their houses. Computers with internet, and digitized versions of books are available in the library.
Practical Knowledge:
Lessons are taught using different teaching aids. Students are made to do the activities given in the lessons. Kennedy has acquired a large number of CD's & DVD's, fiber models, charts, chemicals, and all other equipment & material required. KG & Primary students are taken to Field Trips (Agricultural farms, milk dairy, hospitals, bus stand, railway, police, fire stations, post office, park, market, cloth industry, etc)
The school has a well-equipped Science Laboratory to conduct science experiments and activities. The lab thus supports the activity-based approach at Kennedy and makes learning far more significant and stimulating.
Kindergarten: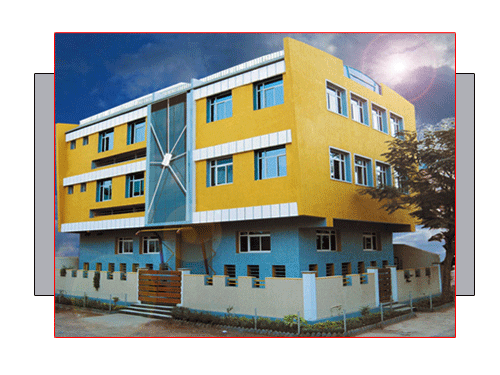 *The Finest blend of Waldorf and Montessori methods of teaching mixed with Indian culture
A NEW APPROACH IN THE ART OF PEDAGOGY
It's not just speaking English or writing Alphabets at 3 years or doing Maths at 4 years. It's something more…
LEARNING WHILE PLAYING
They play in the air, They play in the water, They play on the ground, They play in the class room, They play in the sand, They play 'n' learn, everywhere in Kennedy.